Air Compressor Parts and Accessories
In Toronto and the G.T.A


We supply and install parts for industrial air compressors, dryers and filters. Like any machine, without the periodic replacement of parts, compressors and air dryers will fail to perform the task they were originally designed for. Whether you require consumable parts such as air and oil filters, air/oil separators and oil or worn out components like valves, bearings or couplings, we can supply them for you.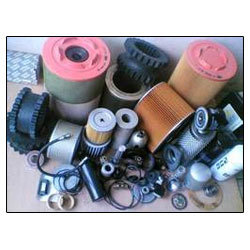 Air Compressor Parts are available for most types and brands, in O.E.M and Equivalent versions. Most consumable parts are in stock or available with short lead times. We offer both O.E.M and quality equivalent components. If it is on an air compressor or related components, we likely have it or can get it for you. From oil and oil/air filters, to pneumatic tubing and fittings, we supply it all. When inquiring about parts for your unit, make and model are needed and occasionally the serial number. We have provided any parts manuals that we have available on the pages corresponding to your unit and will be adding more as they become available. When in doubt, please contact us.

Common Parts



Auto Drains



Pressure Switches


Oil



We are an Amsoil distributor. We offer O.E.M equivalent, 4000 hour oil for rotary screw and vane compressors at a much more cost effective price than the manufacturers' oil. Click on the link for more Amsoil information.

---
We also offer manufacturer's brands such as Atlas Copco- Roto-Inject and Roto-Xtend, Chicago Pneumatic- QRS4000, Compair- CS5000XL, CSS 220 and Ro-Syn HE5000P, DeVair- Dev3000, Gardner Denver- Aeon 9000SP, Ingersoll Rand- Ultracoolant, Quincy- QuinSyn and Quincip, Sullair- Sullube 32 and more.




Oil Filters

Line/Pipework Filters


Atlas Copco, Compair, DeVair, Dominick Hunter, HiRoss, IPAC, Norgren, Parker, Pneumatech, S.M.C, Wilkerson, Watts, Zeks...Let us know what you need and we will get it.


---

Electric Motors


Main drive motors, fan motors and refrigerated dryer condenser fan motors. Let us know what you need and we will get it.


---
L.G.M Controls
(continuous run unloader valves)


These are used on gas driven compressors to vent compressed air to atmosphere when the upper pressure setting is reached.


---

Throttle Control Cables


These are used on gas driven compressors to slow down the engine. They are pneumatically actuated by a pilot valve or L.G.M(continuos run unloader)control.


---

Pilot Valves


For pressure control of constant run piston compressors.


---

Compressor Pump Valves


Reed valves and plates, concentric valve assemblies and plate/spring repair kits.


---

Air Pressure Regulators


---

Solenoids


Moisture drains, load/unload valves, blow down valves etc.


---

Air Intake(Inlet) Valves


Used on rotary screw compressors. Complete assemblies or service kit are available.

---

Minimum Pressure Valves


Used on rotary compressor air outlets. Complete assemblies or service kit are available.

---
Some standard sizes are available, but guards can be made to your specifications.





Air Receivers


Click on IMAGE for LINK


---

Puro Oil/Water Separators


Click on IMAGE for LINK


---