Filtration





HF Series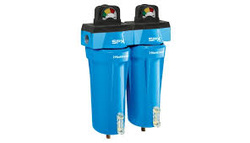 A typical compressed air system is contaminated with abrasive solid particles such as dust, dirt, rust and pipe scale, compressor lubricants (mineral or synthetic), condensed water droplets and acidic condensates and oil and hydrocarbon vapors. If not removed, these contaminants increase pneumatic equipment maintenance costs, lead to instrument and control failure, contribute to poor product fit and finish and contaminate processes.
The right Hankison filter or filter system will remove these contaminants allowing your compressed air system to deliver the quality of air required by your application; whether it's plant air, instrument air, or medical air–helping to ensure consistent output quality while minimizing operating costs.
A choice of Seven Element Grades allows you to design a system that delivers the air quality you require:
Grade 11 - Moisture Separator
Grade 9 - Separator/Filter
Grade 7 - General Purpose Air Line Filter
Grade 6 - Dry Particulate Air Line Filter
Grade 5 - High Efficiency Oil Removal Filter
Grade 3 - Ultra High Efficiency Oil Removal Filter
Grade 1 - Oil Vapor Removal Filter
HF Series Filters feature:
Push-on elements make element replacement easy
Piston type element to housing seal keeps unfiltered air from by-passing element
Corrosion resistant cores-Stainless steel for added structural integrity
Low resistance to flow-Seam welded for extra strength
"Matrix blended fiber" media-large, effective surface area -improves capture rate
Ensures high efficiencies-large open area minimizes pressure drop
Coated, closed cell foam sleeve - resists chemical attack from oils and acids
Ensures high efficiencies by preventing re-entrainment of coalesced liquids
Chemically resistant end caps bound to media with specially formulated adhesive
Silicone free
Withstands temperatures to 150°F (66°C)
Low resistance to flow
---


HTA Series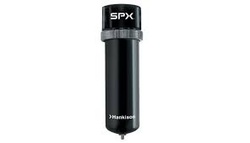 Compressed air leaves a desiccant dryer containing dust concentrations typically in the range of up to 0.05ppm by weight in heatless type dryers and up to 5 ppm by weight in heated type dryers. Particle size ranges from 200 microns to about 1 micron. This desiccant laden compressed air enters the filter housing where a reduction in air velocity and a sharp change of direction cause particles in the range of 200 to 20 microns to drop to the bottom of the housing.
Features:
High dust loading capacity
Long cartridge life
Good for temperatures to 450°F(232°C)
Removes all solid particles one micron and larger
---





NGF Series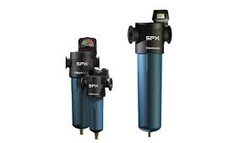 As energy costs continue to escalate globally air treatment manufacturers are challenged to design equipment that is cost effective, delivers optimum performance and consumes less energy.
Hankison's Next Generation Filter Series is the solution for efficiently removing contamination from compressed air systems while saving energy.
The NGF Series employs technological advancements in filtration materials and design to ensure premium compressed air quality and low operational costs. Every filter is tested and rated delivering certifiable performance according to ISO 8573-1 air quality standards. The NGF Series is tested to ISO 12500. Test results provide certifiable performance data based on defined challenge concentrations.
A choice of Five Element Grades allows you to design a system that delivers the air quality you require:
Grade SF - Bulk Liquid Separator/Filter


Grade PF - General Purpose Filter


Grade HF - High Efficiency Oil Removal Filter


Grade UF - Ultra High Efficiency Oil Removal Filter


Grade CF - Oil Vapor Removal Filter


NGF Series filters feature:
Patented Venturi-Wave™ element design promotes a turbulent-free transition for compressed air entering the element


Deep bed pleated, high performance media


Element grade identification with color coded end caps printed with genuine Hankison filter element replacement part number


Scuplted housing design with flanged inlet and outlet connections for easy installation


Die cast aluminum, chromated housings are coated with a polyester epoxy powder coat finish for corrosion resistance


Internally ribbed bowl promotes condensate drainage


---


M Series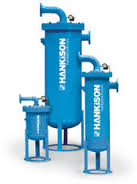 Removes submicronic particles for ultra clean air:
100% of particles 3 microns and larger
99.98% of particles 0.1 micron and larger
0.5 ppm w/w maximum liquid content after filtration
1000 ppm maximum inlet liquid loading
Low pressure drop: 0.5 to 1 psi (0.04 to 0.07 kgf/cm2)
Long element life: 8 to 15 years
Virtually maintenance free
Extra protection:
Captures and retains large slugs of oil and water, should drain trap fail
Protects downstream equipment from contamination should oil separator on rotary screw compressor fail
Standard Features:
5 year equipment warranty
5 year element life guarantee
Differential pressure gauge mounted and piped
Heavy duty ASME stamped pressure vessel
Long life mist eliminator element
Floor stand
Dedicated vent port for demand type drains
---