Desiccant Compressed Air Dryers







HDF Series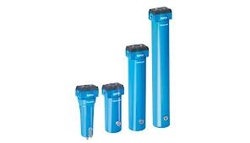 A Spray Painter's Assurance For A Flawless Finish
State-of-the-art refinish materials and moisture-sensitive pneumatic tools require compressed air treatment. Modern spray guns, particularly HVLP, require greater volumes of air to atomize today's high-solids coatings. Greater volumes of air carry greater volumes of water, oil, and dirt which must be removed. A HDF Series compressed air dryer can eliminate that damaging water, dirt, and oil which can ruin your refinish work.
HDF Series Single Tower Desiccant Dryer Features:
Produce pressure dew points as low as -40°F (-40°C)
Rugged powder-painted, corrosion-resistant aluminum housing which can be installed in-line
Charge of silica gel desiccant adsorbs moisture from the compressed air
Desiccant change-out indicator offers convenient monitoring of desiccant condition
Desiccant change-out indicator turns color from blue to white
Integrated 15 micron cleanable dust filter
The benefits for your shop are:
Increased shop capacity to process more cars
Helps get on the "preferred" lists for referrals from insurance companies
Fewer labor hours and materials per paint job
Better bottom-line for the company
---





DHW Series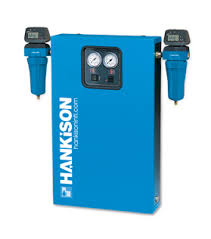 Minimum purge air usage saves the heat of adsorption, maximizing the moisture holding capacity of the purge air which minimizes the amount required. Standard 10 minute cycle gives increased desiccant life over units operating on shorter cycles. DHW Series dryers allow the off-stream tower to fully repressurize before going on-stream preventing bed movement and loss of pressure downstream.
Consistent outlet pressure dew points - large desiccant beds produce:
-40°F (-40°C) pressure dew point on a 10 minute cycle [equals an atmospheric dew point of -71°F (-57°C)]
-100°F (-73°C) pressure dew point on a 4 minute cycle [equals an atmospheric dew point of -122°F (-86°C)]
---


HHE, HHL, HHS Series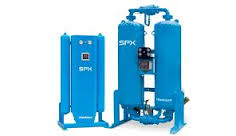 Utilizing twin towers filled with premium grade activated alumina, Hankison Heatless dryers are available with 3 application specific control systems to meet the needs of industry with economy and performance.Hankison HHS, HHL and HHE Series heatless desiccant dryers provide consistent outlet pressure dew points to -100°F (73°C).
Standard Instrumentation
Left and right tower pressure gauges
Purge pressure gauge
Moisture indicator – alerts operator of elevated dew point
Throttling valve provides accurate purge pressure adjustment.
---





HBP Series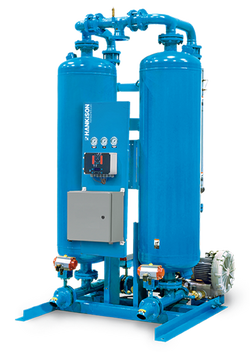 HBP Series dryers improve air system efficiency by the use of a dedicated axial blower, instead of a percentage of dehydrated purge air, to regenerate the off-line desiccant tower. ISO 8573.1 Class 2 (-40°F/-40°C) dew point performance is guaranteed. HBP Series compressed air dryers will produce the design dew point while operating continuously at maximum rated flow (100% duty cycle) at CAGI ADF 200 inlet standards of 100°F inlet temperature and 100% relative humidity at 100 psig.Blower purge type regenerative compressed air dryers are an economical and reliable way to dry compressed air to dew points below the freezing point of water. Desiccant dryers lower the dew point of compressed air by adsorbing the water vapor present in the compressed air onto the surface of the desiccant. Adsorption continues until equilibrium is reached between the partial pressure of the water vapor in the air and that on the surface of the desiccant. These dryers continuously process compressed air by using two identical towers, each containing a desiccant bed. While one tower is on-stream drying, the other tower is off-stream being regenerated (reactivated, i.e. dried out). The towers are alternated on and off-stream so that dry desiccant is always in contact with the wet compressed air. In this way a continuous supply of dry air down stream of the dryer is possible. The switching from one tower to the other is controlled by a solid-state controller on either a fixed time basis (standard) or a demand basis.


---