Chicago Pneumatic Rotary Screw Air Compressors


Introducing the Nano CPN Series 3-15HP


The CPN screw compressors are smaller than an equivalent power sized piston compressor. The CPN is designed to work continuously when needed. That means you get 100% performance, 24 hours a day from your equipment. When compared to piston compressors, the continuous operating characteristics of the CPN can lead to reduced power consumption, maximized output and lower cost per C.F.M produced.


CP NANO Series Rotary Screw


---
The QRS Series Rotary Screw Compressors

Engineered for high performance, efficiency and reliability, the Chicago Pneumatic line of QRS(Quiet Rotary Screw) air compressors can meet the compressed air demands of a tire shop, maintenance shop, vehicle body/paint shop or automotive dealership. Quiet by design, the QRS can be installed almost anywhere and with an optional integrated air dryer. The QRS is the leading rotary screw compressor for light industrial applications.
The QRS 3 to 15hp models all come mounted on a horizontal receiver, 60g for the 3-7.5hp and 120g for the 10-15hp.
The QRS 20-30hp models are rugged rotary screw compressors that combine proven design with superior performance. Ideal for automotive and industrial applications, the QRS20-30 is engineered and built to support the most demanding requirements. The QRS 20-30hp units can be ordered base mounted or mounted on a 120g horizontal air receiver.
The QRS 20-30 HPD can be supplied base mounted or factory mounted on a 120g receiver with the built in refrigerated air dryer to save vital floor space and provide continuos compressed air delivery. Installation into every application is quick and easy, simply supply power to the electrical panel, connect your discharge piping and you will have instant access to high quality compressed air.

---

Click HERE to see this unit running


---
CPC/D 40-75 Series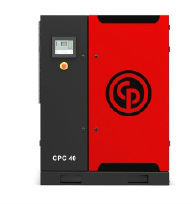 Premium Compressed Air Without The Premium Price
The high efficiency rotary screw compressor with low power consumption makes the CPC/D the ideal choice for the processes requiring constant or intermittent flow. Load/no load control with timed shutdown increases the compressor life and improves energy saving operations so the price-performance benefits mean reliable compressed air at minimum cost.
The CPC/D are managed by the ES4000, an electronic control unit programmed for energy saving operation with intelligent shut down. The ES4000 control can be programmed to shutdown in accordance with your plant air demand and reduce long periods of unloaded operation, reducing power cost. The ES4000 control feature can save a customer hundreds or thousands of dollars per year.

---
CPE/F 75-300 Series

The CPE75-150 and the CPF200-300 series rotary screw compressors are base mounted, directly driven units with a microprocessor controller. Dual prefiltered air intake, precision manufactured components and reduced voltage starting mean security for your application and low operating costs. Standard enclosure and a rapid maintenance design foster an environment that lets you focus on your business, not your compressor!
---
CPVS 20-250 Series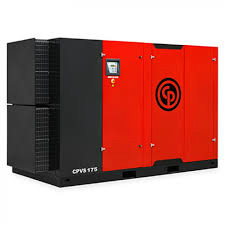 CPVS20-250, screw compressor, base mount, variable speed drive


---